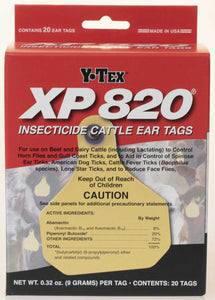 The Y-Tex XP-820 insecticide cattle ear tags contain new insecticide abamectin, a highly active macrocyclic lactone that is particularly effective against horn flies, including strains resistant to synthetic pyrethroid and organophosphate insecticides.

New chemical class makes it ideal for rotation with any other insecticide tag. Slow release formula contains synergist piperonyl butoxide to increase potency.
Use 2 tags to control horn flies up to 5 months, control ticks up to 4 months and reduce face flies.

Use 1 XP-820 ear tag to control horn flies up to 3 months.

Approved for use on beef cattle, non-lactating dairy cattle and calves.
Uses Y-Tex tag system. 9 gm