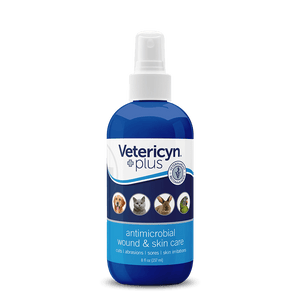 Vetericyn Plus Antimicrobial All Animal Wound and Skin Care clean wounds and helps to relieve pain. Use this solution to clean, flush, moisturize, and help prevent potential infection.
Faster healing is achieved when wounds are clean and maintained moist. No rinsing necessary.

Safe for use around mouth, nose, ears, and eyes.

Sold in 8 oz or 16 oz bottles
For best results, use in conjunction with Vetericyn Plus® Antimicrobial Hydrogel for proper protection and moisture balance during healing stages.