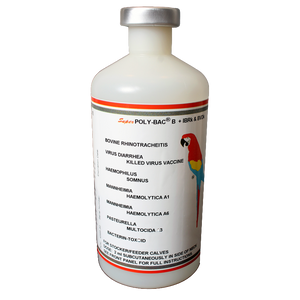 ProBac 4 + IBRk & BVDk combines the safety and security of a killed viral vaccine in combination with broad spectrum prevention against four of the most prevalent bacterial pathogens found in beef herds today. This vaccine was purposely developed to provide an all-killed option that will safely start most vaccine programs.
With applications from cow-calf, feeder/stocker, and incoming feedyard calves, this product is unsurpassed in it's application and flexibility in a vaccine program

.
Super Poly-Bac® B+IBRk & BVDk is labeled for use in healthy stocker and feeder calves 3 months of age or older as an aid in the prevention of respiratory disease associated with Infectious Bovine Rhinotracheitis, Bovine Virus Diarrhea (Type I), Haemophilus somnus, Mannheimia haemolytica A1, Mannheimia haemolytica A6 and Pasteurella multocida A3. This product contains inactivated Mannheimia haemolytica leukotoxin and cell-associated antigens.