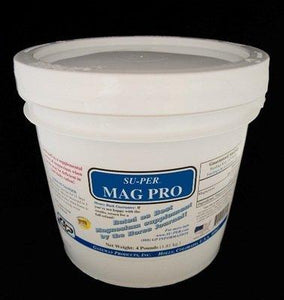 SUP-ER Mag Pro Powder is often given as a supplemental source of magnesium when levels may be deficient in the total daily feed ration.
It is a powder form with nothing added. Magnesium is an essential constituent of bones and teeth. One of the signs of Magnesium deficiency is hperirritability.
Amount to Give:
Give 1 ounce daily for 21 days prior to event. May be increased to 2 ounces daily on days when horse is worked to a strong sweat.
Number of Servings:
For 1 ounce serving size: 4 pounds = 64
Ingredients:
PER 1 OUNCE: Magnesium - 2,125 mg. Contains 100% Magnesium Proteinate.