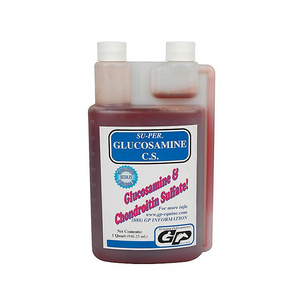 SU-PER Glucosamine C.S liquid helps relieve pain and heals damaged connective tissue!
It allows the body to facilitate the manufacture of collagen and proteoglycans necessary for the repair of articular cartilage in injured joints and the resupply of synovial fluid.
Stimulate the production of proteoglycans which help maintain the health and resiliency of joints and connective tissues.
Formulated to help:
Relieve pain
Heal damaged connective tissue
Repair injured joints by resupplying synovial fluid
Maintain the resiliency of joints and connective tissues
Get a Quantity Discount when 4 or more tubs are purchased!
Ingredients Per 1 Ounce:
Glucosamine HCl - 5,000 mg
Collagen Type II - 990 mg
Vitamin C - 750 mg
Directions:
Give 2 ounces daily for 2 weeks (loading phase). Thereafter give 1 ounce daily for maintenance. A one-ounce scoop is enclosed.
Serving Size:
For 1 Ounce Serving Size: 2.5 Pound - 40; 12.5 Pound - 200