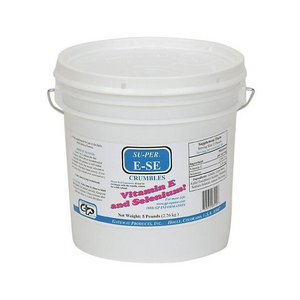 Provides Support For Sore Muscles!

Vitamin E is an antioxidant and is given increasing importance in the horse's diet each year. Vitamin E also supports the proper immune system and muscle function.
Selenium deficiency results in muscular dystrophy which may lead to white muscle disease.
When fed in combination with Selenium, these nutrients can help:
Provide support for sore muscles
Assist in the prevention of nerve damage and help performance horses with muscle problems.
Ingredients Per 2 Ounces:
Vitamin E - 2,500 IU
Selenium - 2.06 mg
Directions:
Give 1 - 2 ounces daily
How Long Should It Last?
For 2 ounce servings, it should last 32 servings.