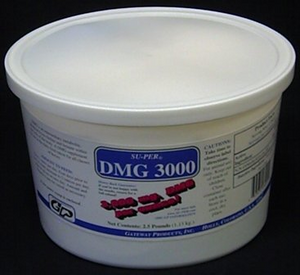 Training And Performance Support For Exercising Muscles!

SU-PER DMG 3000 supports normal cardiovascular, immune, and muscle function!
Athletes will take DMG because:
It improves oxygen utilization
It reduces lactic acid in their muscles
So why wouldn't you want to give it to your hard-working steed?!
The powder has an apple flavoring to make it tasty for your horse!
You Can Also Get A Quantity Discount When 4 Or More Tubs Are Purchased.
How Long Should It Last?
It should last roughly 40 days with the 2.5 lb tub.
Directions:
Give 1 ounce per day.
Four days prior to race or event, increase to 2 ounces per day.
May be given on race day. The amount and frequency may be varied as necessary.
Ingredients Per Ounce:
N,N-DiMethylGlycine - 3,000 mg