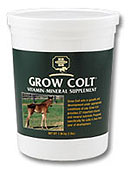 Give your foals the nutrition they need to grow healthy and strong with Farnam Grow Colt Growth and Development Supplement. Formulated with 27 essential vitamins and minerals to support optimal development in the first years of a foal's life. Specially formulated for foals and young, growing—horses and is great for use with a creep feed!
Formulated with 27 nutrients, such as protein, amino acids, vitamins and minerals, necessary for the health of growing foals
Supports normal, consistent growth and development
Supports proper bone and connective tissue development
Provides nutrients to help support the immune system
Supports first-year nutritional demands!
Easy-to-feed PELLETS!
Available in 30-day and 60-day Supply
Supplements for every age and every stage.