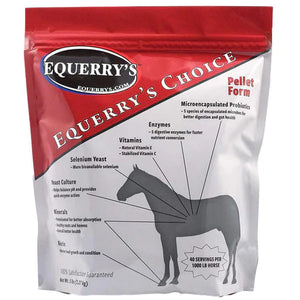 Equerry's™ Choice is a complete Nutritional Supplement for a growing or working horse. A blend of Microencapsulated Probiotics, Digestive Enzymes and Yeast for digestive support. It also contains Chelated and Protonated Vitamins and Minerals. Choice is highly effective in providing digestive and nutritional support in a palatable pellet for easy feeding.
5 Species of Encapsulated Microbes - Microbes stimulate steady appetites for more energy and stamina. Encapsulation protects microbes by creating a physical barrier until the microbes reach the gut. Proven to survive the acid in the stomach and flourish in the hind gut. The creation of this positively flourishing gut suppresses pathogens. (E. Coli, Salmonella)
5 Digestive Enzymes - Helps your horse digest feed rapidly and allows maximum absorption of nutrients. Enzymes activity assists in breaking down fats, proteins, etc. so that they are easier for the body to utilize.
5 mg Biotin - Biotin is essential for hoof quality, hair, skin and immune system health.
Organic Selenium - Protects against damage to cells, promotes healthy immune and cardiovascular systems and hormone production.
Anti-Oxidants - Helps control free radical cells and prevent disease.
Stabilized Vitamin C - Does not break down during manufacturing process and maintains full potency. Vitamin C is a great anti-oxidant.
Vitamins – Broad spectrum of bio available vitamins essential for Equine Health.
Proteinated Minerals - The important major and trace minerals are supplied in every feeding for growth, maintenance and regulatory function. Equerry's contains chellated minerals and proteinated minerals. Proteinated minerals are absorbed faster and more efficiently into the blood stream.
Amino Acids – The Protein building blocks that are readily absorbed into blood stream.
Equerry's Choice is the perfect supplement for a wide variety of horses, at various ages and activities.
Growing Foals
Breeding Stallions
Brood Mares
Pleasure Horses
Performance Horses
Feeding Equerry's Choice, good quality hay or pasture and fresh water will provide all the building blocks for your horse's good health!
FOB of 5 lbs applies to shipping