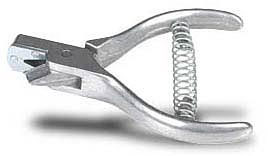 This Ear Notcher is made of strong, lightweight die cast aluminum. All cutting plates are carefully ground after being hardened and tempered, assuring you of a good, clean notch every time.
Ear Notcher comes with an adjustable depth gauge to set depth to set depth of cut.
Large cuts a V shaped notch 13/16" wide at base.
Medium-cuts a V shaped 1/2" wide at the base.
Small cuts a V shape 1/4".