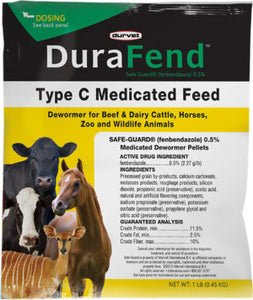 DeWormer for all you livestock! DuraFend DeWormer is a multi-Species medicated dewormer indicated for the control and removal of worms in beef and dairy cattle, horses, zoo, and wildlife.
 Contains .5% (2.27 g/lb) fenbendazole.
 Fenbendzsole removes and controls a variety of worms.
Pellets may be top dressed or blended with feed.
No milk withdrawal period for dairy cattle.
1 lb package.
5 lb package price includes FOB charges
Click here to read the product label