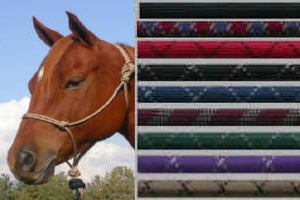 Please call us for availability!
Double Diamond 8MM Rope Halter is a stout 8mm (approx. 5/16") halter. The same design as the DDHTK100 halter but made from nylon kernmantle climbing rope. A very strong, soft and pliable rope halter. Horse size. Colors:black; red/black; black/tan; hunter green/tan; purple/silver; tan/black; brown/black; navy/burgundy/tan.
DD # 125
Double Diamond
Double Diamond Halter Company
"We are proud to offer the finest handmade rope halters and horse tack. Built by cowboys, tested by broncs."
Each of these fine halters are hand-tied in the great state of Montana. At times the demand exceeds the availability. We here at Animal Health Express will do our best to process your order, offer you subsitutes if you need and keep you updated with the shipment status. We appreciate your business!