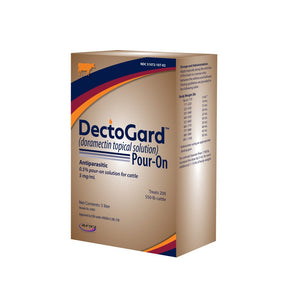 No Hazard Shipping fee on 10 ltrs or more!!!!
DectoGard™(doramectin topical solution) – a highly active, broad-spectrum parasiticide for topical administration to cattle. One dose of DectoGard Pour-On solution effectively treats and controls a wide range of roundworm and arthropod parasites that impair the health and productivity of cattle. DectoGard Pour-On solution is indicated for the treatment and control of gastrointestinal roundworms, lungworms, eyeworms, grubs, biting and sucking lice, horn flies and mange mites in cattle.
Compare to Zoetis Decotmax Pour-On. You will calculate a significate savings.
DectoGard is the first FDA approved generic doramectin topical solution under ANADA 200-738. Doramectin topical solution has been proved to effectively control infections and to protect cattle from reinfection with Cooperia oncophora, Dictyocaulus viviparus, Ostertagia ostertagi, and Oesophagostomum radiatum for 28 days; and Cooperia punctata and Haemonchus placei for 35 days after treatment.
Doramectin topical solution has been proved to effectively control infestations and to protect cattle from reinfestation with biting cattle louse (Bovicola (Damalinia) bovis) for 77 days and long-nosed cattle louse (Linognathus vituli) for 42 days after treatment."
Administer DectoGard to cattle topically at a dosage of 500 mcg doramectin per kg (227 mcg/lb.) of body weight. Each mL contains 5 mg of doramectin, sufficient to treat 22 lb. (10 kg) of body weight.
Varying weather conditions, including rainfall, do not affect the efficacy of DectoGard. DectoGard topical solution contains the same active ingredient in the same concentration and dosage form as Dectomax® and contains no inactive ingredients that may significantly affect the bioavailability of the active ingredient.
DectoGard is available in 5-Liter multi-dose containers.
For more information about DectoGard™ Pour-on for beef cattle, contact your veterinarian or veterinary products distributor.
Hazardous shipping fees apply to 5 liters.