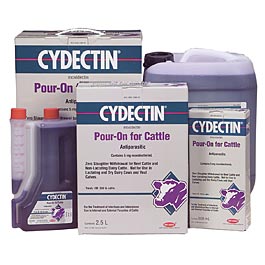 Cydectin Pour-On is a second generation endectocide. The active ingredient is moxidectin. It is approved for use against internal and external parasites of cattle, including 4 species of lice, grubs, horn flies, and 2 species of mites including Psoroptes ovis.

It has the longest persistent activity claim for Ostertagia ostertagi (brown stomach worm): 28 days and Dictyocaulus viviparus (lungworm): 42 days. A nonflammable, oil based formulation that may be used regardless of weather conditions without concern for wash off and reduced efficacy.
Dosage: 5 ml per 110 lbs body weight. For use on cattle only.

There is no slaughter withdrawal, it is safe for all cattle.

There is zero milk withhold and zero slaughter withdrawal with Cydectin

®

.
Cydectin® provides broad-spectrum control which has been shown to result in increased weight gain1 and reduced pasture contamination. Cydectin has been shown to provide persistency against specific key species, including:
Brown stomach worm for 28 days
Lungworm for 42 days
Nodular worm for 28 days
Barber pole worm for 14 days
Order an application gun for 2.5 and 5 ltr bottles
Read more about treatments for pest and parasites.
Cydectin is dung beetle friendly. Read more about the importance of dung beetles.
Spring Rebate 2020 expires May 30
Click here to read the product label
Boehringer Ingelheim distributer of Bayer Products
Customer Reviews
Great Value
This was a great price. The shipping was free and fast. I will be back for another purchase.