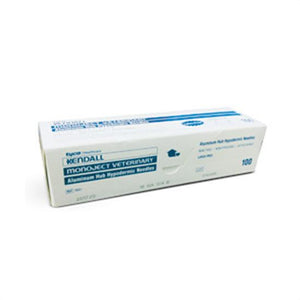 Our sterile Covidien Disposable Animal Needles are ultra sharp for consistent, trauma-free injection control and maximum patient comfort.
These hypodermic, stainless steel needles are professional quality and are fitted with color-coded caps for helpful and easy identification and aluminum hub luer locks. Covidien Disposable Needles are guaranteed tamper-proof, heat sealed sterile packaging and are friendly.
Needles are available for purchase in bulk, 100 per box.
Tamper-free heat seal guarantees sterility

Aluminum hub luer lock

16 x 5/8" and 18 x 5/8" are BQA "B" bevel
Needle Sizes:
20 ga x 1 ½ for Horses
16 ga x 1" for Beef Cattle