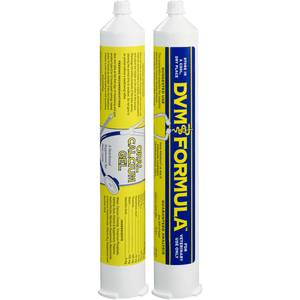 A Nutritional Supplement for Dairy Cattle Feeding Directions Place the tube in proper dosing gun and remove cap. Hold the animal's head in a slightly elevated position and place the nozzle on the back of the tongue. Discharge the entire contents of the tube slowly, allowing the animal time to swallow. Do not give to an animal without a swallowing reflex.
Feeding Recommendations Give one tube at the first sign of freshening and give another tube 6 to 12 hours post calving, repeat every 12 hours as needed. If the first feeding is missed, a post calving feeding is still beneficial.
Suggested Use DVM Oral Calcium Gel is a mineral supplement for use in fresh cows. It contains Calcium and certain vitamins to help maintain normal mineral and vitamin levels around freshening.
Ingredients Water, Calcium Chloride, Tricalcium Phosphate, Xanthan Gum, Vitamin E Supplement, Thiamine Hydrochloride, Riboflavin Supplement, Niacinamide, d-Calcium Pantothenate, Vitamin B12 Supplement and Ascorbic Acid. Guaranteed Analysis Calcium 14.6% 54.75 g Calcium (max) 15.6% 58.50 g Vitamin E 50 IU Vitamin B12 100 mcg Riboflavin 5 mg Pantothenic Acid 10 mg Thiamine 100 mg Niacin 100 mg Ascorbic Acid 5 mg