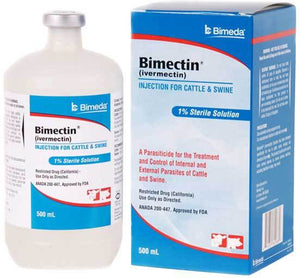 Bimectin® Injection is an excellent and effective choice for the treatment and control of a wide range of internal and external parasites of cattle and swine. Bimectin® is absorbed quickly to reach and kill parasites, you can be confident when using Bimectin® Injection as part of your parasite control strategy.
Bimectin® Injection offers convenience, with only a single low-volume dose required to effectively treat and control a broad range of parasites which may impair the health of cattle and swine.. It is also cost effective; having an inexpensive cost-per-dose. Bimectin® Injection is also FDA-approved.
Indications:
Bimectin® Injection is indicated for the effective treatment and control of harmful species of gastrointestinal roundworms, lungworms, lice, and mange mites in swine and cattle. It is also indicated for the control of grubs in cattle.
Size: 50 ml or 250 ml