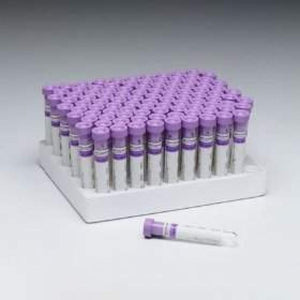 BD Vacutainer EDTA Tubes are plastic sample tubes for collecting whole blood. These collection tubes are coated on the inside with K2EDTA (Potassium Ethylene Diamine Tetra Acetic acid). This material acts as an anticoagulant to prevent the samples from clotting.
BD Vacutainer EDTA Tubes Features and Benefits
Latex Free
Disposable
Rubber Stopper Prevents Blood Spills
BD Hemogard Prevents Contamination
Lavender Cap Helps with Quick ID
Purple or lavender: K2 EDTA. This is a strong anticoagulant and these tubes are usually used for complete blood counts (CBC). Lavender top tubes are generally used when whole blood is needed for analysis. 
Brand may vary