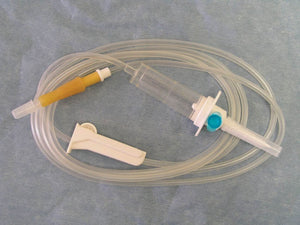 JorVet Small Animal Disposable IV Set is a new IV set from JorVet for use on either vented or non-vented IV fluid containers.
The Piercing Spike can be easily inserted into all infusion containers. The smooth surface reduces the risk of rubber abrasion during insertion.
An Integrated Bacteria Proof Air Vent in closed position works on non-vented collapsible IV bags.
In open position works on vented rigid plastic or glass containers.
Accurate Drop Former helps form even, large drops for the required drop rates, 20 drops/ml.
72" Soft Elastic Tubing assures an easy setting of the roller clamp.
Air bubbles can be easily detected through the transparent tube material.
Precision Roller Clamp provides a reliable setting of the infusion.
Frequent checks are not necessary.
Luer Connector.
Latex Injection Piece ensures the hygienic injection of drugs.