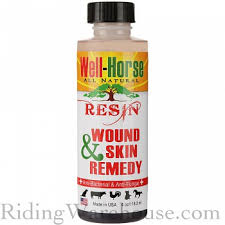 Well Horse regenerates tissue on wounds by promoting the formation of new collagen.
Well Horse is a proprietary blend of resins from certain trees that grow in the Amazon rain forest. No trees are cut down or harmed harvesting this product. The same technique is used for harvesting maple syrup from maple trees. Well Horse regenerates tissue and allows for accelerated healing.

Well-Horse has been named #1 wound treatment by Horse Journal. Well-Horse Wound & Skin Remedy is all-natural. It is made from a medicinal tree resin called Dragon's Blood (due to its reddish-brown color) which is sustainably harvested from the Croton Lechleri trees in the Peruvian part of the Amazon Rainforest. Well-Horse is anti-bacterial, anti-viral, and anti-fungal. It promotes the growth of new collagen which helps wounds and damaged skin tissue heal rapidly.   Well-Horse decreases itching, pain, and inflammation. It dries to create a protective barrier, like a second skin. which makes wrapping optional. Hair grows back the original color. It does not promote proud flesh. It is non-toxic and non-caustic. It is safe and effective for all animals and humans to use. There is truly no better product to have in your first-aid kit than Well-Horse Wound & Skin Remedy.