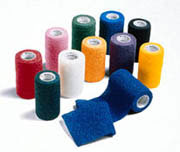 Vetrap has been around for years and is known for its unique design of sticking to itself. You can use as a running bandage, leg wrap or tail wrap!
Features:
stretches and sticks only to itself
doesn't stick to hair or skin
eliminates pins, adhesive tapes
stays in place and gives firm support
Measures: 4" X 5 yd stretched

Colors: red, white, blue, green, yellow, teal, pink, purple, orange, black
Price discounts when you buy a box of 18. Specify the color you want in the order notes.