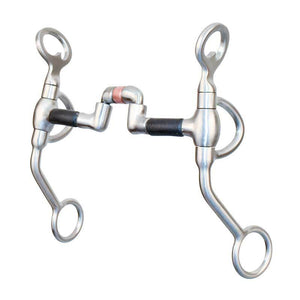 FG Clinician Omni Bit With Rubber Covered Bars
Brand: Metalab


Series: FG Clinician Bit Collection
Level 1 ~ Made for the horse that is at the beginning of its training.
Bit Features:
Size: 5-1/8″
Finish: Stainless Steel brushed
Articulated, Copper rollers, 1/2″ Thick, Rubber covered bars
6-1/2″ Shank with Swivel Free rings
A versatile bit that offers a lot of movement.
Mouthpiece is articulated to move right and left but also collapses like a correctional bit.
Features the patented Pinchless System with rubber covered bars.
The cheekpiece features Swivel Free purchase rings that deliver a clearer signal to the horse and prevent the headstall from twisting.