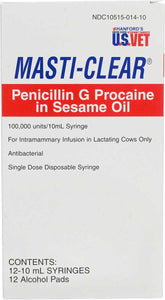 Masti-Clear is used for the treatment of bovine mastitis in lactating cows. Masti-Clear is effective against udder infections caused by Streptococcus agalactiae, Streptococcus dysgalactiae and Streptococcus uberis.
Each 10 ml syringe contains 100,000 units Penicillin G Procaine in sesame oil. Administer Masti-Clear promptly at the first signs of mastitis. Administer one 10 ml syringe per infected quarter. Treatment may be repeated at 12 hour intervals, up to a total of 3 doses.
Treated quarters should not be milked for at least 6 hours after treatment, but should be milked at regular intervals thereafter. Milk withdrawal 60 hours (5 milkings) after the latest treatment. 12 tubes per box.