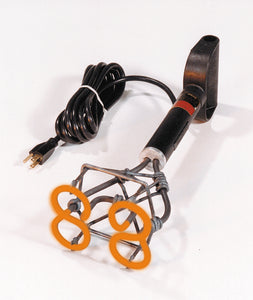 *Free Shipping On Orders $50 Or More! (Excluding Cold And Hazardous Items)
This M Electric Brand provides a consistent and legible brand every time. The 3″ element takes approximately 90 seconds to reach branding temperature. It is of sturdy construction, with a strong barrel that insulates against heat or electric shock.
L & H Manufacturing Company is recognized nationally as the leader in this field for its electric branding iron. L & H makes the most complete line of livestock branders with thousands of satisfied users all over the world. Reduce the chance of loss and theft of your livestock. Mark them permanently with an L & H Brander. All L & H Electric Branders are custom made to meet your exact specifications. Available in many designs of letters and numbers.
FAST: Will heat to branding temperature in ninety seconds and maintains constant even heat for producing a good brand. No waiting time for brander to reheat. Merely leave plugged in as long as you are branding.
SAFE: Eliminate open fires; decrease the chance of fire loss to farm and ranch structures. All L & H Electric Branders are equipped with a 10' three-wire grounded cords for added safety.
SIMPLE: Plugs into any 110-volt outlet, AC or DC, for fast, easy hookup. Brander is specially designed for a clear vision of the branding application
DURABLE: L & H ELECTRIC BRANDERS are braced at all stress points with steel rods, keeping the heating element from bending or breaking. The brander is made of lasting, non-corrosive material and ordinary use will give years of trouble-free service.
Read here about Extension Cord Requirements